Parmesan cheese - Parmigiano Reggiano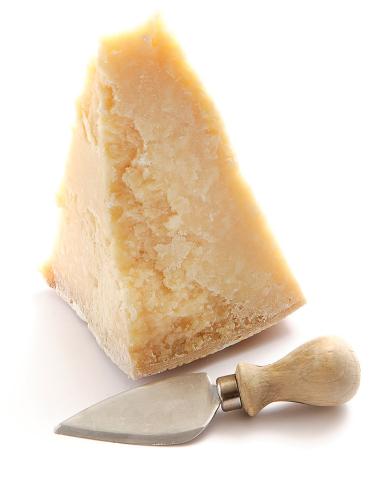 Parmigiano Reggiano is a PDO hard cheese, made with raw milk (partially skimmed through surfacing), without additives or preservatives. The production area for Parmigiano Reggiano encompasses the provinces of Parma, Reggio Emilia, Modena, Bologna to the left of the Rhine, and Mantova to the south of the Po river.
Protected Designation of Origin (PDO)
This is a Protected Designation of Origin (PDO) product, in accordance with European standard Reg. CEE 2081/92 and the acknowledgement of Reg. (CE) No 1107/96. Only the cheeses manufactured in accordance with the standards defined by the production Guidelines can boast the Parmigiano Reggiano marking.

All wheels of Parmigiano Reggiano must be clearly marked on the outside, as identification of the product. The milk used to make this cheese requires stable pastures and cattle farming.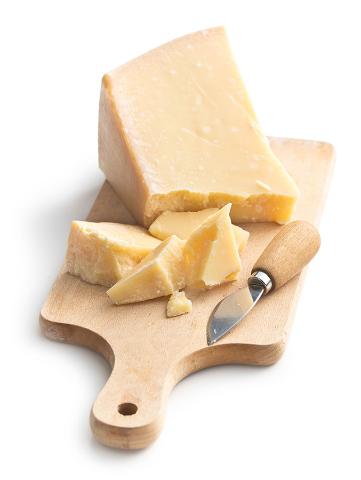 Nutritional features
Semi-fat, hard, cooked cheese of slow maturation, produced with rennet of fermentation acidity of cow milk of animal origin, usually during seasonable lactation. The milk cows feed on polyphyletic meadow forage or alfalfa. The milk used is collected in the evening and in the morning and is partially skimmed through surfacing. No anti-fermentation agents are used. After a few days, the milk is salted for approximately 20 days. The maturation of this cheese is natural and ideally lasts 24 months.
The mature cheese is used as table cheese or grated, and features the following characteristics:
Cylinder shape, with the top slightly convex or almost flat, with flat, slightly bound sides;
Dimensions: 35 to 45 cm of diameter; height between 18 and 24 cm;
Average weight of a wheel: 35/40 kg;
Outer packaging: dark colour and oiling or natural golden yellow;
Cheese colour: from slightly straw-yellow to straw-yellow;
Characteristic odour and flavour: fragrant, delicate, savoury yet not spicy;
Cheese structure: finely grainy, breaks into scales;
Holes: tiny, barely visible;
Crust thickness: approximately 6 mm;
Fat in the dry substance: at least 32%.